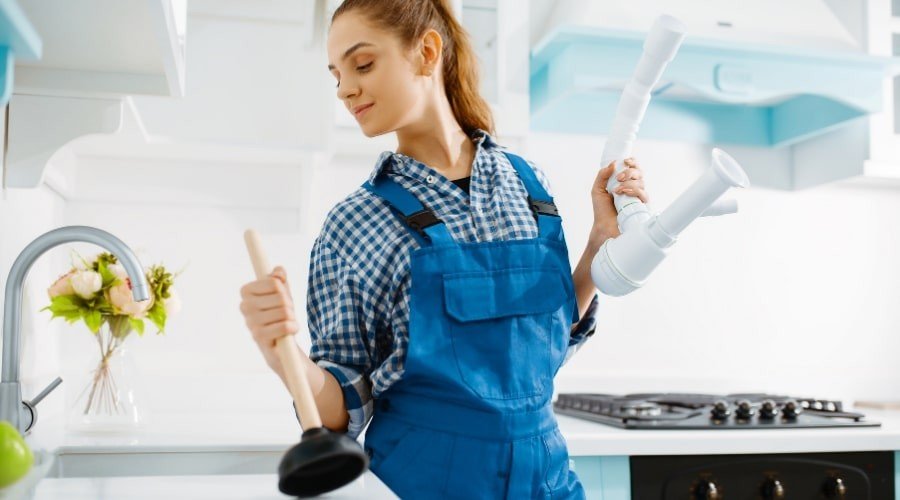 How Women Have Shaped the Plumbing Industry
While the stereotypical plumber that comes to mind in most customers is male, women have been plumbing for over 100 years. Though the plumbing industry is typically considered a male-dominated field, women have and continue to contribute to the landscape of the industry. Women have always been involved in plumbing, scheduling appointments, bookkeeping, and supporting the male plumbers from the office. 
However, during the scarcity of men during World War II, many women took up the mantle of 'local plumber' to complete the necessary plumbing work that communities still needed. Women have continued to add ingenuity and quality work to the plumbing industry. 
Lillian Ann Baumbach - The First Female Master Plumber
Lillian Baumbach was the first licensed female master plumbing and changed the landscape of the plumbing industry for women everywhere. Growing up in a family-run plumbing company meant she had been around the industry her whole life and often helped with the behind-the-scenes side of her family's business. However, she eventually decided she wanted to be more hands-on. 
Now a bit of a celebrity, Baumbach was nicknamed the "Pretty Plumber" by her fans, both local and national. Because of her popularity and skills, she received letters asking her opinions on industry standards and even marriage proposals, all similarly rejected. 
Ladies Auxiliary Committee for the National Association of Plumbers
Founded in the early 1900s, the Ladies Auxiliary Committee for the National Association of Plumbers began to entertain the wives of plumbers attending the larger committee. While the first meetings were social, the group eventually focused on creating change in the plumbing industry.
They did everything from campaigning for better envoy mental, sanitation, health, and labor standards industry-wide to partnering with gas stations, grocery stores, and food handling businesses to improve the sanitary conditions of stores. Today, the Auxiliary is still active in supporting industry change and supporting plumbers of both genders. 
Women in Plumbing Today
While today's plumbing industry is still male-dominated both in reality and the minds of the general public, women are still making waves as plumbers across the nation. More women are stepping out of the office out into the field. Though it can still be challenging for women to break into the plumbing industry as there is still some stereotyping that occurs, many female plumbers serve customers and raise the quality standards of the plumbing standards nationwide. 
About Apple Valley Plumbing Company 
Apple Valley Plumbing Company is an award-winning company that has served the Apple Valley, MN area for the last ten years. Focused on being a plumbing company customers can trust, Apple Valley Plumbing Company offers free estimates and a 100% satisfaction guarantee. Call now for expert plumbing service!